Jay-Z's Made In America Festival has been drawing the world's top talent since its inception in 2012.
But M.I.A. is increasingly becoming the festival to catch some of the best New hip-hop talents before they cross over to mainstream success.
The Philadelphia-based festival was launched in partnership with Live Nation, has been early on artists like Lil Uzi Vert and Chance the Rapper, before they were famous (or infamous) household names.
This year, Jay-Z and company have curated a lineup that includes Jay himself, Pusha-T, J. Cole, Run the Jewels, 21 Savage, Stormzy, A Boogie Wit Da Hoodie, Vic Mensa and a lot of other acts who have had hits this year.
The Made In America Festival will undoubtedly continue to break new artists since Jay and Live Nation just signed another 10-year deal that covers the mogul's concerts and his other events.
If you're planning on hitting M.I.A. this year, here are a few of the new rising hip-hop talents you will want to know about in advance.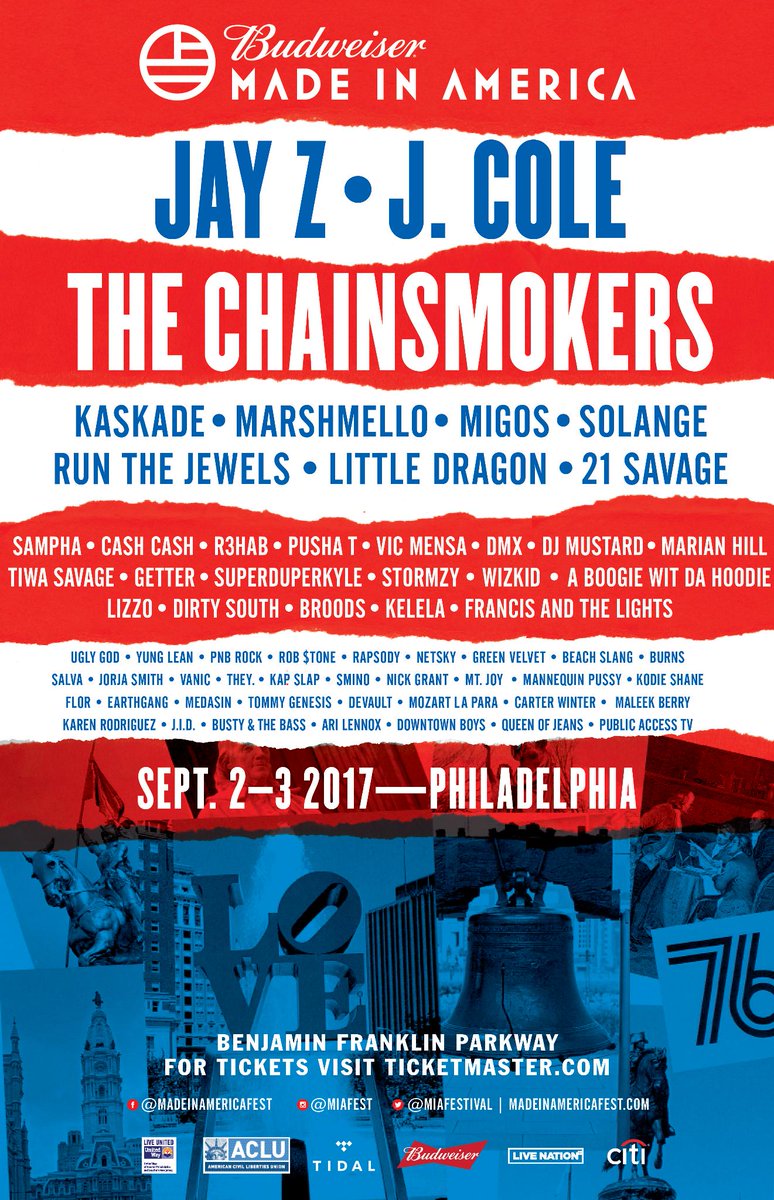 ---
Earth Gang
It's been a great year for Earth Gang. The Atlanta-based group features Johnny "Olu O. Fann" Venus and Doctur "Eian Undrai Parker" Dot. They began gaining recognition with their 2010 release "The Party Better EP," which was followed by 2015's Torba. Earth Gang is ending 2017 very strong, with their appearance at M.I.A., and a new deal on J. Cole's Dreamville imprint, which just dropped the group's newest EP, titled "Rags."
[protected-iframe id="3182895e07f0924dd8e7ca219bb275cf-126268609-11457250″ info="https://geo.itunes.apple.com/us/album/rags-ep/id1277534099?app=music" width="100%" height="500px" frameborder="0″]
---
KYLE
KYLE will appear at M.I.A. in support of his number Top 5 single "iSPY" with Lil Yachty. So far, KYLE has only released two albums: 2013's The Beautiful Loser and 2015's Smyle. Nevertheless, Kyle has managed to land features with top rappers like Lil Yachty, G-Eazy and Chance the Rapper.

"I'm trying to take myself to the next level and show people that this is serious, not just a game. And I want to make a lot of people happy, that's all. I want to make a lot of people smile." – Kyle to Billboard
---
Smino
St. Louis Missouri will represent during M.I.A. thanks to rapper/musician Smino. Smino comes from a musical family: his grandfather played bass for Muddy Waters. But Smino does not record the blues. He describes his own music as a mixture of "soulful rap and funk music." His 2017 album blkswn was released to critical acclaim.
[protected-iframe id="3415d02ed405f9816a41a1fc1627f09e-126268609-11457250″ info="https://open.spotify.com/embed/album/4xROpjIxUUQZFNgNL5VA4O" width="300″ height="380″ frameborder="0″]
---
Tommy Genesis
Vancouver rapper Tommy Genesis started making noise in 2015 with her Awful Records debut, World Vision. Tommy was signed by Atlanta trap legend Father, although she hails from Vancouver Canada. In addition to a rap career, Tommy Genesis is making moves in the fashion world as a model for Calvin Klein and Diadora. Tommy also went to school for filmmaking and sculpting.

"My identity is very sexual. Sometimes I try to repress it, but I just can't. I think that it's because a lot of the time, when I write, I just lean on sexual experiences, because to me it just ties a lot of my thoughts together naturally. It's not like I'm trying to shock anybody." – Tommy Genesis to NYLON
---
And of course, there is Jay-Z…
---